Recruit the right talent today, faster.
Get a steady stream of great candidates and help from professional recruiters any time you need it. With easy monthly subscriptions and no commitments, Recruiter.com clients can cut hiring costs by up to 50%. Our AI Software and community of on-demand recruiters deliver top talent to employers of all sizes, from startups to the Fortune 100.
Recruit like an expert
Hiring managers spend up to two entire days of their week finding and screening candidates, racking up an average cost of over $4,000 per hire.
Sit back and relax - our software automatically campaigns to a network of over 150 million talent profiles. Find the perfect candidate without spending hours sifting through resumes or scrolling through LinkedIn.
Receive qualified and curated candidates via email or your preferred ATS. Spend less time searching and screening and more time speaking to the right people.
Get started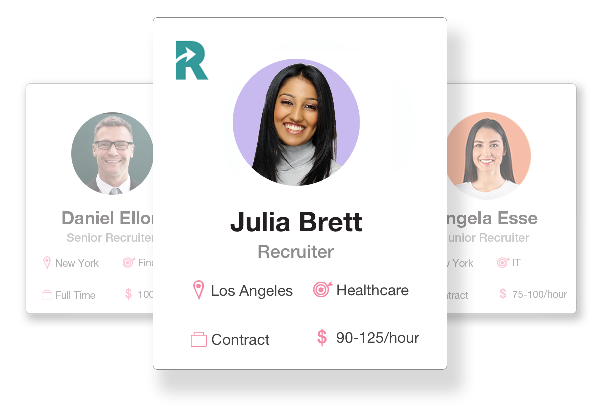 Or let an expert recruit for you.
Recruiter.com's On-Demand recruiters make it easy for large and small companies to extend their own in-house hiring team with our network of experienced on-demand recruiters.
Choose your preferred recruiter, or team of recruiters, to assist with any part of your talent acquisition effort. Scale up or down flexibly with your hiring demands and reduce your overhead.
Learn more
Whether you are hiring a Chief of Staff or your first employee, we have your talent pipeline covered.
Top Tech Company to Watch

Top 35 Most Influential Career Sites

9 Best Websites for Finding Talent