Tap into the power of Recruiter.com's powerful recruiting software to proactively outreach to qualified applications.
Receive qualified and interested talent automatically.
Spend more time collaborating with your team and less time on the hiring process.
A total recruiting solution with bundled software + talent screening services.
We were blown away with the combination of quality and speed. This was a very hard VP search and their technology and services made it easy. The candidates they found were phenomenal, and the one we hired is already making huge contributions.
Recruiter.com solves the hardest problem when looking for new employees, sourcing great candidates that are usually working somewhere else, without the crazy costs of a full-service HR or staffing agency.
Leading companies trust our recruiting solutions to connect with talent, convert profiles into job applicants and increase their flow of talent.
Recruiting Technology - Hiring Software Plus Screening
Recruiter.com talent acquisition software is built from the ground up to help employers secure better candidates and lessen the manual outreach of the recruiting and hiring process. Scale your recruitment efforts with automated email reach outs to targeted candidates, campaigning your message to qualified potential job seekers. The recruiting software system indexes over 150 million profiles and uses resume parsing and sophisticated matching. Powerful machine learning and artificial intelligence make it easy for managers and recruiters to find and engage the perfect candidate quickly.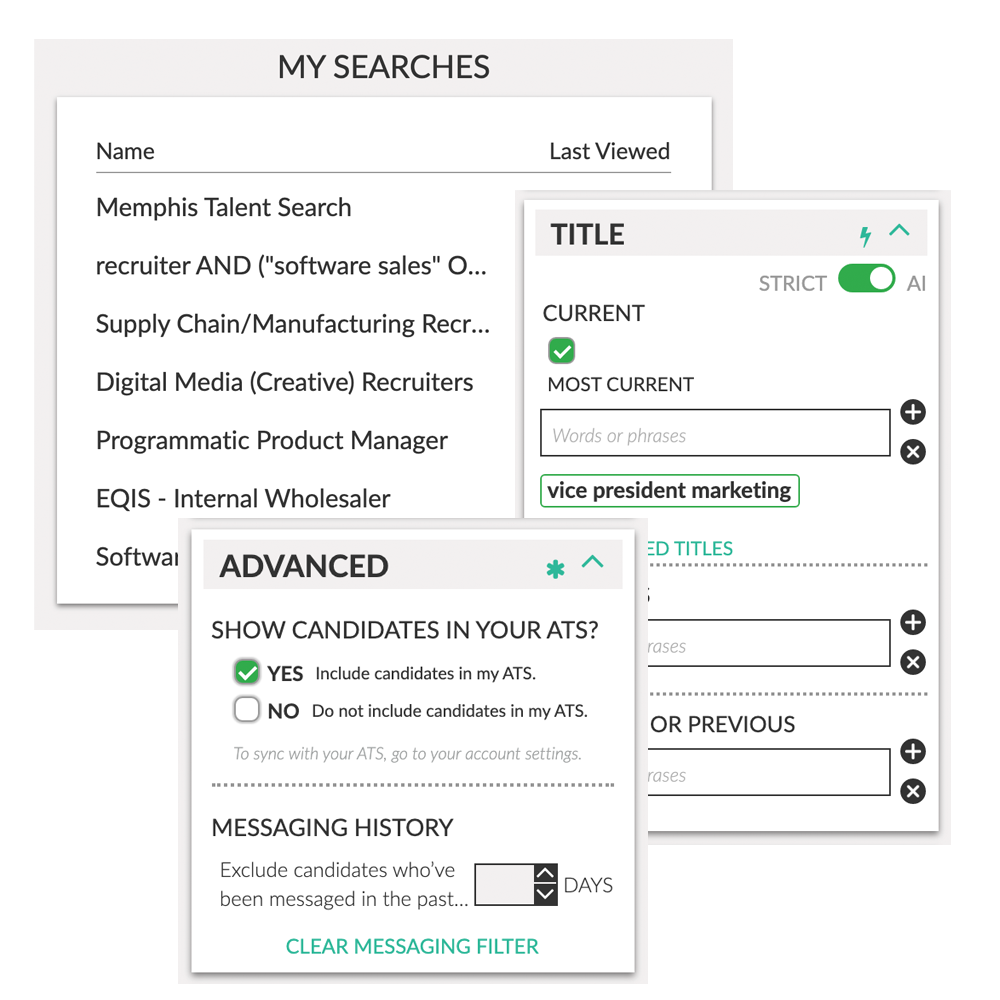 Get matched candidates in your inbox. Receive qualified and curated candidates via email or your preferred recruiting software
Expand your talent pool. Uncover candidate information and pinpoint the right candidate
Source from over 150 million talent profiles. Don't bother spending hours sifting through candidates on LinkedIn, social media platforms and other job sites
Hire great talent. Target high-quality groups of well-qualified, employed talent that are not typically available on job boards.
Accurate candidate data. Get the right contact info the first time - highly accurate profile information that is regularly rescanned and validated.
Personal recruiting outreach. Send email campaigns directly from your email with sophisticated testing capabilities for the best recruiting results
Accelerate your hiring process. Spend less time waiting on job postings by proactively sending email outreach to potential applications.
Learn more about our recruiting software solution
Effective Talent Acquisition - Recruiting Solutions for your Entire Process
We provide detailed profiles on every candidate in our database -- 150 million talent profiles strong. Our intelligent, automated matching processes make it easier for you to find
passive candidates
who aren't already applying for jobs at your company. This is especially valuable when you're looking for hard-to-find talent that doesn't necessarily want to be found by recruiters advertising open positions on job boards.
Use our recruitment software solution to:
Find awesome candidates - top talent for your job openings
Target passive candidates - find talent that won't typically apply to job postings
Augment your talent acquisition team - increase your hiring efficiency
Add sourcing to your current recruiting tools - integrate with your applicant tracking system
Relieve administrative burden - helps in house recruiters source
Get a quick demo of our recruiting software solution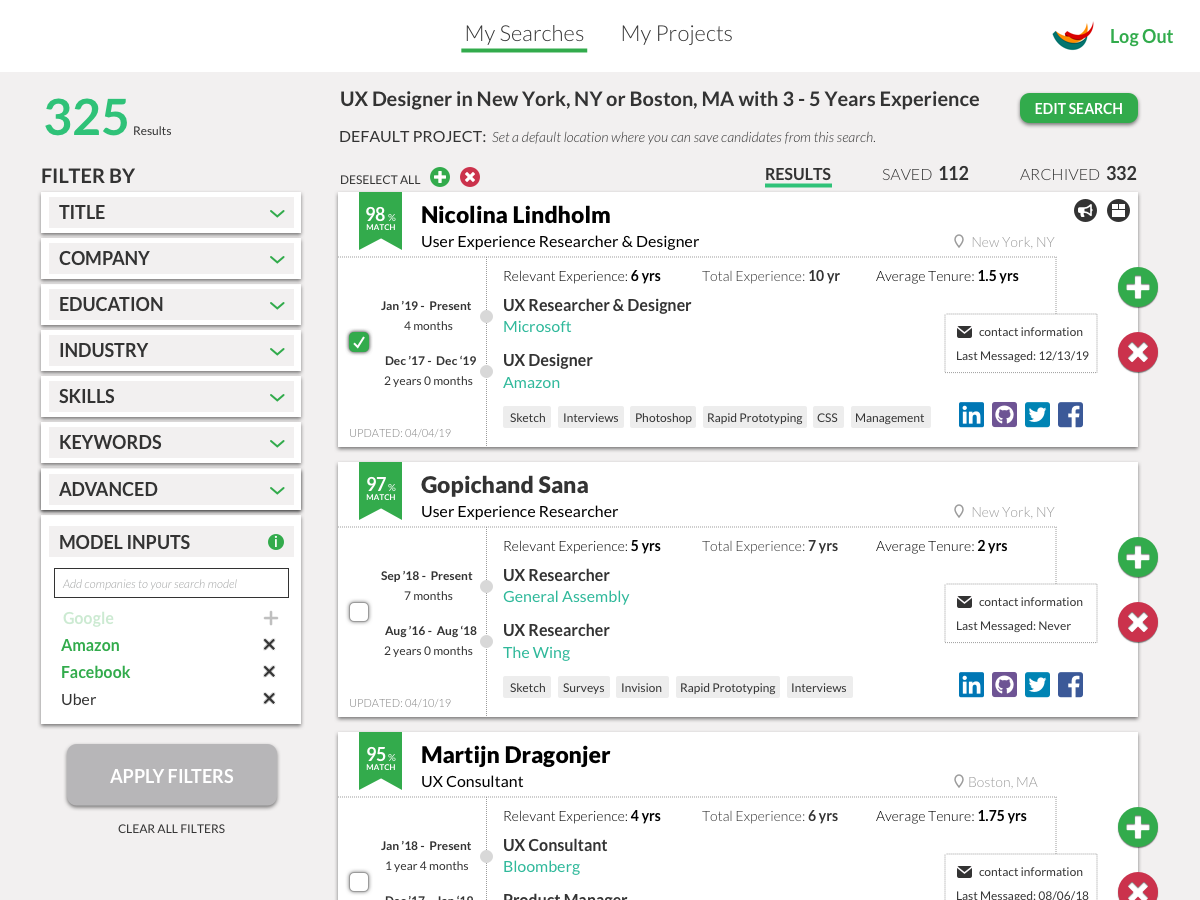 Our Clients - Success with Startups to the Fortune 100
We deliver great hires for growing companies of all sizes. Recruiter.com works with startups to the largest companies of the Fortune 100, supplementing their
talent acquisition
efforts and finding new hires for open positions more rapidly than traditional staffing agencies or job posting. Identify the right candidates, improve your hiring processes, and hire the best with our world-class hiring platform.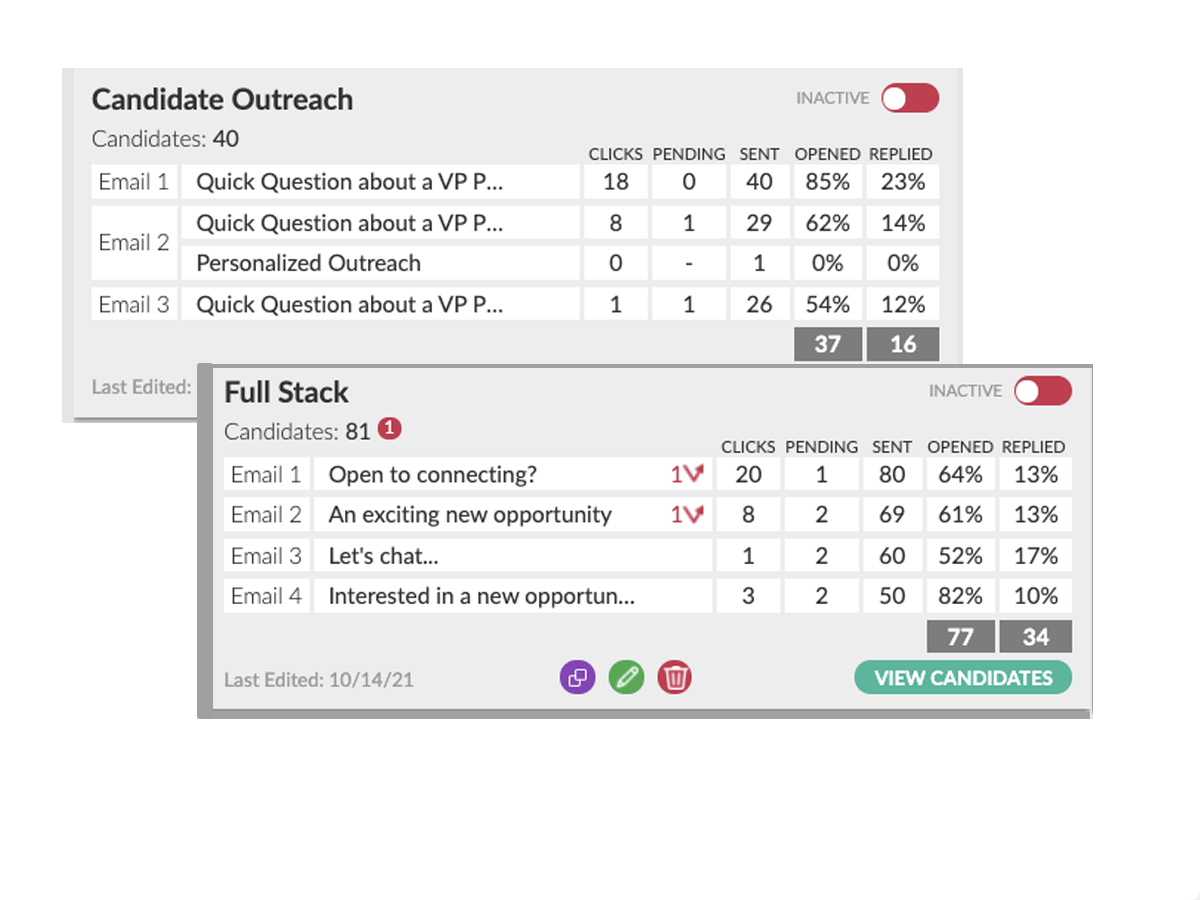 One platform saves time with complex recruiting challenges:
High volume hiring - augment your hiring process for repeat roles
Niche hiring, such as software engineers - identify top talent for hard to fill roles
Opening new offices - resource candidates for new locations with posting to multiple jobs
International locations - find talent for unfamiliar locations and resource with OnDemand recruiters
Connect with our customer success team
Recruiting Software - FAQs
When will I start to see warm candidates?
Typically, our clients will start to receive "warm" or interested candidates within a week of launch. Candidate communications tend to receive the highest response after multiple touchpoints, so candidate flow becomes steady after a couple of weeks.
What does onboarding look like?
Week 1: Client intake for requirements analysis, messaging crafted, an addressable market identified, and test email sequence sent.
Week 2: Calibration of the recruitment campaign and widespread candidate outreach.
Ongoing: Continued improvements and recalibrations. Client receives metrics weekly.
What do the recruiting email communications look like?
During a demo, we would be glad to show you a few samples of best practices and examples in candidate outreach.
Generally speaking, we recommend engaging candidates with a 3-5 email sequence. The subject headers and calls to action can be A/B tested to optimize results.
We partner with your marketing team, recruitment marketing agency, or internal talent acquisition team on content, upon your direction.
What is the response percentage to recruiting email communications?
Response rate varies greatly based on the opportunity and the mandates around the job opportunity. For example, skill requirements, location, and salary bands are all relevant variables. Generally, we see open rates of approximately 40% for engaged and high-skill positions, but results vary.
How long do clients typically subscribe?
Our talent subscriptions are designed to flex with your hiring needs, without long-term commitments. You may require a 2-3 month subscription to fill multiple niche positions or use us on an ongoing basis for your repeat roles. Start, stop, or pause your subscription OnDemand, according to your unique needs.
What is recruiting automation?
Recruiting automation technology automates the manual, repetitive tasks that are part of the recruiting process. Recruiter.com's technology focuses on candidate sourcing. Our technology adds automation and intelligence, significantly improving the speed and success of recruiters and hiring managers in identifying, evaluating, and engaging candidates.
What are the benefits of AI?
Just like Netflix movie recommendations or a Spotify Discover Weekly playlist, Recruiter.com's AI uses sophisticated data models to do the heavy lifting, when identifying the best passive and active candidates for a search, and pairs it with powerful engagement tools to convert the candidates into active candidates. It leads to a more successful recruiting process, increases in productivity, and a framework to improve recruiting performance over time.
Where does the candidate data come from?
Our data comes from dozens of sources across the open web, aggregated through proprietary technology. The database includes candidate work history, skills, contact info, social links, and hundreds of other data points. A separate company database allows us to aggregate relevant company information that feeds our models when determining candidate relevance scores. The data is validated and kept up-to-date through monthly updates, as well as when candidates appear in real-time results.
Do you integrate with my ATS?
Yes, the Recruiter.com platform has integrations in place with many ATS platforms. Data flows bi-directionally, which means that we'll import your ATS data into Recruiter.com (only using it in your account), clean the data (around 75% of ATS data is out of date), and run it through our models so that searching your existing candidates actually becomes easy and useful. We'll also push any data generated in Recruiter.com (emailed candidates, positive replies, etc) back into your ATS for scheduling and interview management. Recruiter.com can also support custom integration if required by the client.
TOP RECRUITING SOFTWARE
Built to help hiring teams
Start Recruiting Fast
Get your recruiting campaign up and running fast, with our professional team of customer success managers. Access our massive network of talent profiles to start building pipeline immediately. Almost like employee referrals, get "hand-raising" candidates in your inbox.
Optimize your Talent Acquisition
We stay in touch with you throughout the recruiting process, helping you improve and expedite your recruiting efforts. Test email campaigns and receive input on recruiting best practices to further your chance of success.
Candidate Delivery
Our customer success team sends you candidates directly to your email inbox or your preferred recruiting software, HR software, or applicant tracking system. Select your software and hiring process of choice - then sit back and receive qualified candidates.
Flexible Recruiting
Do your recruiting needs change dramatically month by month? Purchase our recruiting software with a simple software subscription with no long-term commitments. Scale up or scale down according to your exact recruiting needs.
Software Price
Our hiring software platform subscription is set on a per job search basis, to help you scale your recruiting efforts on the positions for which you need most help. Help drive identified and matched candidates for your hard-to-fill roles or focus on high-volume / high-turnover roles that need a consistently high volume of applicants.
Recruit the Right Talent
No matter your specific industry, finding the best talent will separate you from your competitors and transform your business. Our recruiting software identifies potential talent profiles - applicants that may not be actively looking for a job. Especially for niche talent requirements, this can be exactly the kind of candidates you need.
Applicant Tracking System ATS Integration
We integrate with numerous popular applicant tracking systems, hr tech, and recruitment software vendors. We will match your hiring processes and send candidates directly to your system of choice, including Greenhouse software, Lever, iCIMS and others. No HR Software? We will send the best talent directly to your inbox.
Save Time and Money
Every company has limited resources, and the cost of managers doing manual outreach to passive candidates can be prohibitive. With the time your hiring managers spend on recruiting plus the high cost of multiple recruiting tools and HR software, recruiting must be done strategically.
Recruit like an expert
with cloud-based
recruiting software from Recruiter.com.
Recruit Faster with Software
Need more candidates? We do the work for you, automatically campaigning to people who've shown interest in your company so you'll have highly qualified leads ready when opportunities become available. No need to wait -- we get them for you now!
Learn how you can recruit in-demand talent faster, saving hiring managers time and reducing recruiting costs with the power of flexible, OnDemand recruiting software and talent acquisition services from Recruiter.com. Take the first step and book a few minutes for a demo.
LEARN MORE
Recruiting Software Resources
Recruiter Today
is our daily publication about recruiting and hiring best practices. Learn how to recruit great hires and transform your recruiting into a modern, strategic department. Learn about recruiting software and how to evaluate new systems with the following resources. Subscribe to our weekly newsletter for great tips, case studies, and more!
About Recruiter.com - Recruiting Solutions Platform
Recruiter.com Group, Inc. (Nasdaq:RCRT)
At Recruiter.com, our vision is to build recruiting technology that connects people and creates better work experiences for everyone. Talent acquisition is a people business, and we keep the human element in everything we make. We empower organizations of all sizes to recruit talent faster using Recruiter.com's AI sourcing and campaigning software, virtual teams of OnDemand recruiting experts, and recruitment marketing experience.

Recruiter.com is a work-from-anywhere business, with employees in most major cities. We are headquartered in New York City. Recruiter.com was founded in 2015 and is listed on the Nasdaq (RCRT).