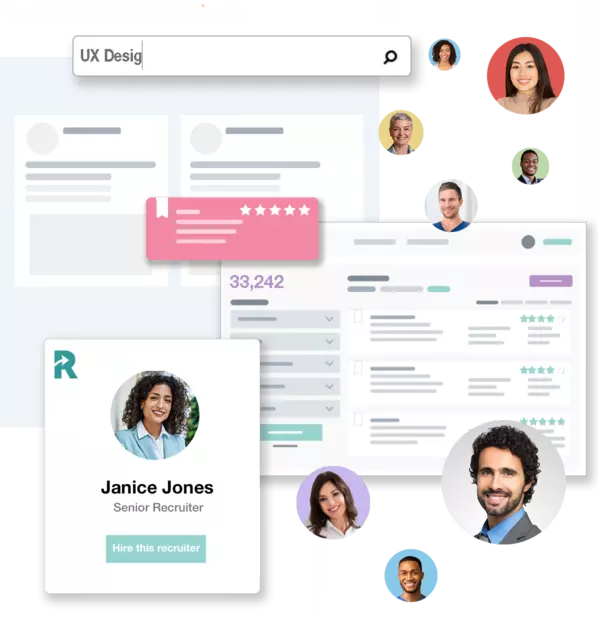 Looking for help with hiring? Recruiter.com is here to help.
We'll empower you to find the best candidates faster and also lower your hiring costs.
If you're an employer: You can hire a recruiter by the hour, as your hiring needs change – and our advanced talent subscription service will deliver qualified candidates directly to your email.
If you're a recruiter: Recruiter.com will help you to find your next talent acquisition job opportunity.
At Recruiter.com, we have more than 150 million candidate profiles, and an extensive network of professional recruiters. We'll help you recruit great talent for your organization.
---
Want help with your hiring? It's easy. Enter your information below, and we'll quickly reach out to discuss your hiring needs.
We make hiring easy
The dynamics of the job market are shifting. Finding the right talent is hard. Filling a candidate pipeline as quickly as possible is even harder. Recruiter.com's on-demand hiring platform makes it easier for companies of all sizes to react in real-time to their talent demands, with flexible, scalable solutions.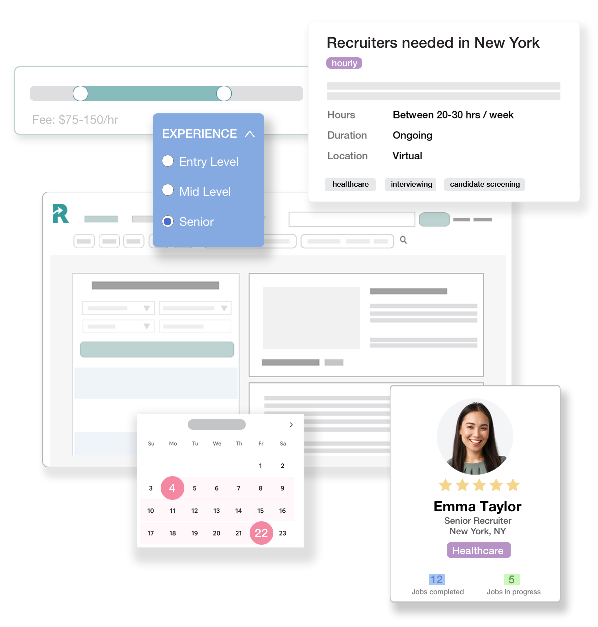 On-tap recruiting

that flexes with your hiring needs.

Access the largest network of recruiters nationwide. Get faster results by extending your in-house talent acquisition capabilities with our expert on-demand recruiting services. Engage with a recruiter, or a team of recruiters, of your choice on a per-project or time basis. Ramp up or scale down quickly.

Learn More
Innovative AI and video technology

to grow your curated talent pools.

High growth companies, or those with high employee churn, need to build a candidate pipeline incredibly fast. Leverage our artificial intelligence SaaS software and video technology to source and engage talent. Our scoring engine uses machine learning, predictive analysis and data science to find the right candidates for the right roles.

Request a Demo
Build your talent pipeline from our niche professional communities.
Let our team customize a recruiting solution for your hiring needs.
Get Started
Recruiter.com in the News
January 25, 2022
Recruiter.com's Scouted was named one of the ten best job search websites of 2022 by the Balance Careers. Scouted was specifically named the best for recent college graduates. ... more
January 25, 2022
Recruiter.com Webinar: The Voice of the Recruiting Industry NEW YORK, NY / ACCESSWIRE / January 25, 2022 / Recruiter.com Group, Inc. (NASDAQ:RCRT)(NASDAQ:RCRTW) ("Recruiter.com"), a recruiting solutions platform, is pleased to ... more