Recruiting Solution Clients
Clients trust us with their most important asset - their people
From startups to the Fortune 100, Recruiter.com provides a total recruiting solution:
Recruiting Software
OnDemand Recruiting Services
Learn about the types of clients we work with below
Leading companies trust our recruiting solutions to connect with talent, convert profiles into job applicants and increase their flow of talent.
Dentsu tapped into Recruiter.com during a huge hiring sprint in 2021. The sheer number of open requisitions outweighed a reasonable req load our internal team could handle. Recruiter.com augmented our team with between 10-18 recruiters over the course of our 3 months partnering. Together, the team made 140 placements. It was a positive experience and we continue to partner with Recruiter.com today.
Recruiting Solution Clients
From startups to the Fortune 100, Recruiter.com helps top employers recruit the right talent faster. Our clients are diverse, but all understand the value of talent.
30% use recruiting software and OnDemand recruiters
48% are technology innovators
54% are larger clients of over $50,000
38% are publicly traded
64% were founded after the year 2000
88% are headquartered in the USA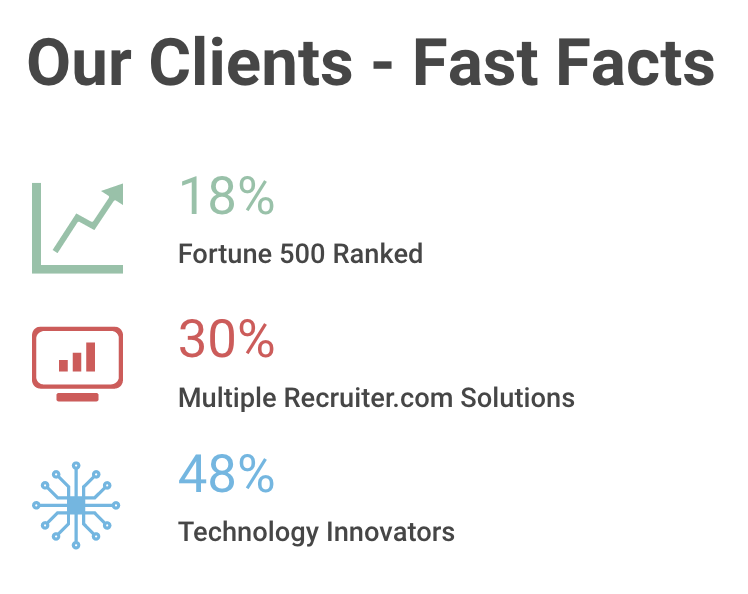 Vision
Our vision is to build recruiting solutions that connect good people with awesome, caring employers. We want to help create better hiring and talent acquisition processes and keep the human element in everything we make.
We look forward to working with clients that understand the value of human capital - how talented employees drive the success and value of business.
More about Recruiter.com
We empower employers of all sizes to recruit qualified personnel faster using Recruiter.com's artificial intelligence-powered recruiting software and virtual teams of OnDemand recruiting experts.
Have a cup of coffee with us sometime! We are a work-from-anywhere employer, with employees in most major cities. We are headquartered in New York City, founded in 2015, and are listed on the Nasdaq (RCRT).