Find your Ideal Future Employees
Top employers use our recruiting software solution to hire great employees and save weeks of time on manual outreach.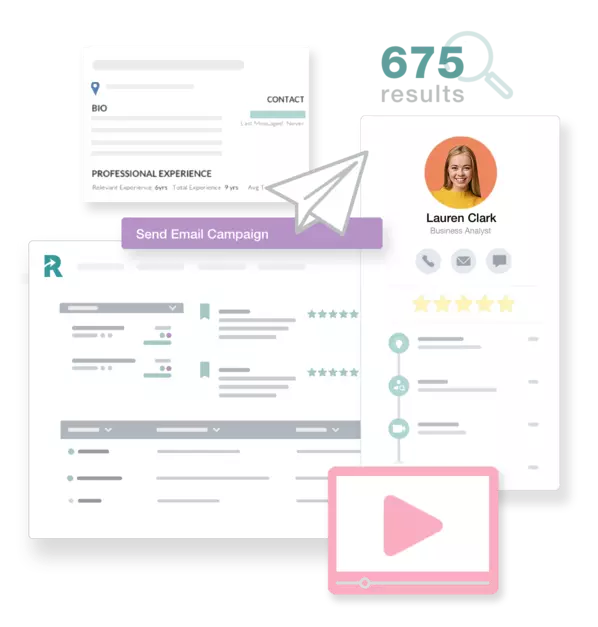 Leading companies trust our recruiting solutions to connect with talent, convert profiles into job applicants and increase their flow of talent.
We were blown away with the combination of quality and speed. This was a very hard VP search and their technology and services made it easy. The candidates they found were phenomenal, and the one we hired is already making huge contributions.
Recruiter.com solves the hardest problem when looking for new employees, sourcing great candidates that are usually working somewhere else, without the crazy costs of a full-service HR or staffing agency.
Hiring managers save time with a steady stream of qualified and interested talent sent right to their inbox. Spend more time on what matters - engaging with future employees and collaborating with your team.
Let the candidates roll in
Receive qualified and curated candidates via email or your preferred recruiting software
Reach 150M+ profiles
Don't bother spending hours sifting through candidates on LinkedIn
The highest accuracy rate
Get the right contact info the first time - accurate and updated profile information
Make it personal
Send campaigns directly from hiring managers and even test what works best
Smart recruiting software
AI-based scoring engine analyzes millions of variables, finding the most qualified employees.
Awesome hiring help
Experience us as an extension of your team to do all the repetitive work
Candidate Recruiting Solutions Platform
Convert more prospects into interested applicants with laser-targeted search and outreach.
Chrome Browser Extension
Find, target, connect and engage with more high-quality talent from LinkedIn or anywhere on the web.
AI Sourcing

Contact Information

Email Engagement

Recruiting Analytics
Find twice as many perfect candidates in a fraction of the time using our AI-based sourcing engine.
AI-based scoring engine. Our models analyze millions of variables, finding significantly more candidates without sacrificing quality.
Context Aware. The model makes connections that humans wouldn't think to make.
Gets Smarter the More You Use It. The system adjusts results based on patterns in candidate selection and engagement results.
It's quick and easy to research potential candidates with full work history, skills, social, and contact info all in one place.
Don't worry about using a dozen browser extensions, our recruiting software has all of the relevant contact information built into the platform. Go from review to messaging in one click.
Candidate information includes:
Email contact information
Social profile links
Work history
Education background
Key skills and experience
Detailed employer information
Automate multi-touch email and run A/B tests to improve performance using simple engagement tools.
Email has proven time and time again to deliver the best recruiting results. Our email tools create a powerful environment to continuously engage candidates and improve your performance.
Capabilities include:
Automated candidate outreach with multi-touch emails. Reaching out to candidates using a series of emails increases interested candidate replies by over 50%.
Easy-to-use A/B testing tools. Creating a testing process can lead to a 4x or higher improvement in response rates.
Analyze results. Campaign analytics will identify both the top performers as well as areas to improve.
Optimize and improve your recruiting performance using real-time analytics.
If you can't measure it, you can't manage it. Our recruiting software introduces reporting and analytics throughout the platform to measure how the key parts of your sourcing process are performing.
Capabilities include:
Candidate Supply. Get insight into the total number of potential candidates that match a set of requirements. Is it 10 or 500? Understanding that number will create a better decision-making process with hiring managers, as well as help define the best sourcing strategies.
Email Campaign Performance. Understanding candidate outreach metrics will allow for the development of an A/B testing strategy to improve overall performance.
Objection Handling. Analyze why target candidates are not saying yes. Iterate messaging based on the results.
We know where the talent is
Employee Pipeline
150M+ Talent Profiles
Contact Info
125M Candidate Emails
Recruiters
30K Recruiters
Competitive Data
60M Company Profiles
Easy Team Management
Admins can easily share use with team members.
Prospect across the web
Find qualified candidates on LinkedIn and around the web.
Bulk enrich your lists in one click
Instantly build search lists, enrich contact lists, and save them for later.
Works where you work
Integrates with popular application tracking software like Greenhouse.
Recruit Qualified Talent Faster
Learn how you can recruit in-demand talent faster and reduce recruiting costs with the power of flexible, OnDemand recruiting software and services
LEARN MORE