Recruitment Solutions
Recruitment Software and Services from Recruiter.com
Leading companies trust our recruitment solutions to connect with talent, convert profiles into job applicants and increase their flow of talent.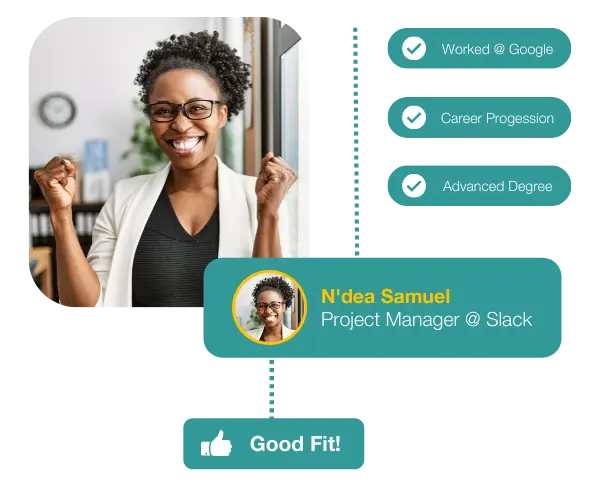 Utilize the Power of Data and AI Recruitment
Sit back and relax - our AI software automatically campaigns to a network of over 150 million talent profiles.

Easily review qualified and curated candidates in one simple dashboard. Spend less time searching and screening and more time speaking to the right people.
Get the recruitment help you need
Have a specialized role you're trying to fill? Our Recruiters On Demand make it easy for companies at any scale to expand their own in-house hiring team with our network of experienced HR professionals.
Choose your preferred recruiter, or team of recruiters, to assist with any part of your
talent acquisition
effort. Scale up or down flexibly with your hiring demands and reduce your overhead.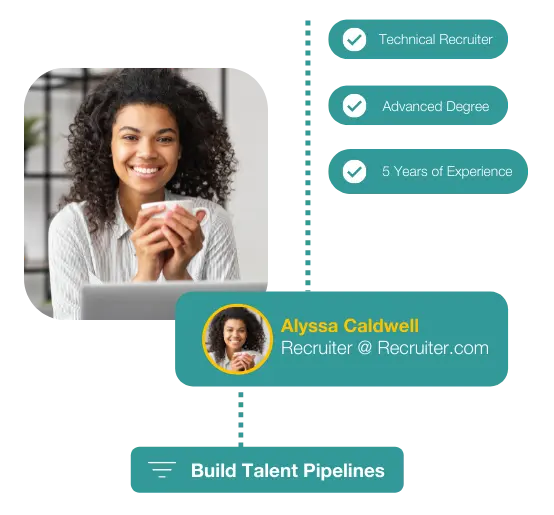 Have a Question?
Recruiter.com's recruitment solutions can help you recruit talent faster. Let's discuss your hiring needs today.
GET HELP

What is Recruitment?
Recruitment refers to the process of locating, attracting, interviewing, choosing, hiring, and then onboarding candidates for open positions at your company. Recruitment is a term used to identify any part of the hiring stage that you need to fill available roles at your company.
Since there are so many recruitment stages, multiple people will likely work on the process for your company. Most of them will work in the human resources department. However, the number and types of employees working on the process will vary depending on how large your company is. If you're a smaller company or startup, you may have one recruiter or recruitment specialist. Or the hiring manager might be in charge of recruiting. Some organizations don't have any
recruiters
or human resource management at their company and outsource all of the recruiting to different firms.
Regardless of who is working on the process, companies will likely use a few different ways to attract job seekers to these positions. For example, they might post new places through job boards, career pages, advertisements, or social media sites and pages. Some companies with the resources also use different tools like Artificial Intelligence (AI) software to source candidates rather than wait for them to find an opening and apply.
Why Recruitment Is Important
The recruitment cycle is just one part of the staffing business, but having a good process acts as an excellent guide to hire qualified candidates. You can use a good recruitment lifecycle to accomplish your hiring goals.

You'll be losing money and time when you have a pool of candidates that aren't being hired. But when a company has a good process, these candidates can move efficiently through a pipeline toward being hired. Many resources and techniques available can help you improve your recruitment process and make it as efficient as possible.
Need help finding great candidates?
Recruiter.com's AI recruitment software can help you build your candidate pipeline. Call us today to find out how.
GET HELP
Different Types of Recruitment
This was a basic version of what recruitment is, but there are also many different types of recruiting that companies can use. Some might be more successful businesses than others.
INTERNAL RECRUITMENT
If you have an open position in your company, you may not want to hire someone that doesn't work at your company already. If you're going to hire an existing employee for a different position, then you would use internal recruitment.

There are many benefits of using internal recruitment. You already have employees who know the business and the culture and may be more likely to stay at your company after hiring them.
RETAINED RECRUITMENT
You can also have your organization focus on retained recruiting. This happens when a company outsources its recruiting. For example, a company will hire a recruiting firm to help fill an open job position at a company. There is typically a fee associated with this type of recruitment, but once the recruiters are paid, they are responsible for finding candidates you can hire. However, some recruiting firms also require that you only work with them to find a candidate for that position. If you hire too many recruiting firms at once, it can be challenging for both parties.
STAFFING RECRUITMENT
If you hire staffing recruiters, they will work for staffing agencies. Staffing recruiting will match people who they think are qualified for your job openings. Staffing agencies usually focus on placing temporary employees, like seasonal, part-time workers, or interns. If you hire a temporary employee who isn't the right fit, the staffing agency will go through the recruitment process to find someone that does fit.
REVERSE RECRUITMENT
Reverse recruitment is a process where the applicant must find employment with an organization that suits their skill set better. You can help candidates practice their interview skills, offer insights into other job roles and skills necessary, review any resumes, and offer critiques. While this may not help you bring in new employees directly, it will improve your employer branding, which can help your company down the road.
CONTINGENCY RECRUITMENT
Contingency recruitment is similar to retained recruitment. You'll outsource your
recruiting
to an outside firm, but you won't have to pay an upfront fee. Instead, you'll only pay the agency when you successfully hire someone that the recruiting firm recommends.
Stages of Recruitment
Regardless of what type of recruitment your company wants to focus on, there are different stages that every process follows.
RESEARCHING
If you want our recruitment phase to be successful, you must start researching and preparing for what you want in an ideal candidate. You need to ensure that you get the suitable candidates to apply for your job.

If you have a lot of applicants, but they're unqualified, you're just wasting your time with administrative work. You could also hire the wrong employee, costing your business hundreds or thousands of dollars. So take the time to sharpen your recruitment process before you begin.

To start with, recruiters can create a good candidate profile. This will determine what you need from the right applicant to get a better idea of what to look for when you start receiving applications. If you're going to source passive candidates actively, then you can use this ideal candidate profile to guide the process. To determine your ideal candidate profile, you'll need to analyze what abilities, skills, and knowledge you need for the candidates to succeed in the position. Once you identify these qualifications, you can build a job posting around them.

After you have a job description, you can also start researching where you will post it. You may want to find job sites to post it on. You can also share it on your career website, social media accounts, and other networking platforms. You can use your candidate profile to identify where your candidates are spending time so that you can target them with your job descriptions.
SOURCING
While posting the job is essential, you can also actively source candidates. You can do this on social media, through optimized emails, or by hosting and attending job fairs. You may even set up an employee referral program and have coworkers refer candidates.

Social media recruiting is popular if you're trying to recruit millennials or Gen Z. You can share your job ad on your relevant social media platforms, like Facebook, LinkedIn, Instagram, and TikTok.

You can also share links on your career page. This is one of the most traditional forms of job sourcing. Niche job sites and career communities are great places to connect with talent and connect them with the right job opportunity. While external sourcing is a popular strategy, the best candidate might also be at your company. That is where in-house recruiting comes in. This can be a great way to save money on recruitment while still finding the best candidate for the job.
SCREENING
Once you've sourced some qualified candidates, you'll need to figure out which job applicants are best suited. Before spending valuable time interviewing different candidates, take a second to screen candidates and narrow down the applicable pool.

You can start by looking at the candidates' resumes. It would be best to look at how much time they spent in their previous positions. Did they bounce around to different jobs or casually move up and gain promotions? If they didn't scale up anywhere, they might not be the right fit for your role.

You'll also want to compare their resume to your posted job description. Do they have any relevant skills and experience that align with the qualifications you're interested in? If they don't have skills that are noticeable at first, see if they have any soft or transferable skills that would help them be successful in your job opening. Once you've narrowed down some top resumes, you should also conduct a phone screening. This can be a quick, fifteen-minute call to verify things on the candidates' resumes. You can also talk about availability and screening.
INTERVIEWING
This is the fourth recruitment stage when you'll start interviewing your candidates. If you want to be successful in the interview stage, you should focus on streamlining the scheduling. Top candidates will be off the market quickly, so it helps to schedule an interview as soon as possible. You can use calendar software to coordinate the dates and times for an interview swiftly.

If you want to reach the best candidates, you should offer interview times outside of regular working hours or during lunch. This will help you accommodate people currently employed but looking for a new job. If you don't offer those times, you may be missing out on great candidates.

Once you've set up interviews, have the candidate's resume on hand. This is a chance to ask detailed questions when you can't find the answers on their resumes. You'll want to focus on what experiences and skills the candidate offers and what they seem to know about your company. Evaluate whether they would be a good fit for the job or whether they would fit into your culture quickly.

Keep in mind that this is also a chance for a candidate to interview the company to see if that's somewhere they want to work. Always leave time at the end of the interview for questions. If a candidate can't interview the company, then they may have a more challenging time gauging if they would be a good fit for the company.

After the interview, you should be able to narrow down the top candidates. Some companies will have multiple rounds of interviews, but you should try and limit them. Don't have more than two or three rounds of interviews because you may lose potential candidates to companies with a shorter recruiting process.

This is also part of the process where you will do background checks on the final list of prospective candidates.
HIRING
This is the second to last step in the hiring process. As you finalize your top candidates, you should have one you would like to hire. If you don't, you'll have to start the process over again. You'll have to use insight and data to determine who the best candidate is. You may even talk with other departments and team members and decide on a candidate.

Once the team has dedicated a candidate, you'll need to send them a formal job offer. A recruiter or someone in the HR department generally handles the job offer process.

The candidate should find the working hours, salary, schedule, and benefits in the job offer. You may have to negotiate some of these terms, so you should decide ahead of time what terms aren't negotiable.
ONBOARDING
Onboarding is the last stage of the recruitment process, and most people overlook it because they think the process ends with hiring. However, if you want your hire to be successful, you must also have an effective onboarding process. HR will have to partner with other departments to have a successful onboarding process for the new hire.

Your onboarding process should include training, information, resources, mentoring, and other things that will make them feel welcome and acquaint them with the new company they're working for.

If you have a remote workforce, this can be even more challenging. However, many remote tools will help streamline all of the paperwork for the onboarding process.
Need help with your hiring?
We help employers from startups to the Fortune 100 hire qualified job candidates faster with recruiting software and on-demand contract recruiters.
GET HELP
Different Recruitment Techniques
There are many different techniques to recruit great talent, from posting an ad in a newspaper, hanging a sign in your storefront, or connecting with new talent on social media. Some companies may even use a combination of different strategies.
The key to a successful recruitment strategy is finding an efficient way and saving you money while hiring new talent. You can do other things, like leveraging and establishing a good employer brand so that candidates reach out to you for vacant positions.
You can also use referrals from current employees. These hires might be the most successful people that you could hire since they'll already have a mutual connection at the company. Employees are also most likely to refer someone they would enjoy and trust working with, so you can already have someone defend that candidate.
You can also use niche
career communities
if you're targeting specific types of candidates. These boards can attract more candidates since they're specialized in particular jobs, and candidates won't have to go through all sorts of irrelevant job postings to find one they like.
You can also host a job fair or recruit at universities or colleges. You may even want to make your company's presence known at industry-related conferences or meetups.
There are so many different ways to recruit various candidates for your company, but depending on the size and type of your company, you'll need to find a recruitment strategy that works for you.
How Can Recruiter.com Help You?
If you don't have experience developing a recruitment strategy or need help carrying out yours, Recruiter.com, a top recruitment company, is here to help. Whether hiring your first employee or your one-thousandth, we have your talent pipeline covered. You can choose which recruitment solutions you want to use or combine them.


AI RECRUITMENT SOFTWARE
With our powerful AI
recruitment software
, you can utilize the power of data and AI. Our AI software campaigns to a network of over 170 million candidate profiles.
This is a strong and predictable talent pipeline. You can sit back and let the AI software curate a list of qualified candidates into a straightforward dashboard and then send that list directly to your email. You'll be able to save time screening and searching for suitable candidates.
Once you locate candidates that would be a good fit, we can send them directly to your inbox. You can send automated and optimized emails to these candidates to recruit them for your company.
There are many benefits to using this type of AI software in recruiting, including improved diversity hiring and streamlined recruitment processes. You'll get access to a larger pool of qualified candidates and then use one tool to source and reach out to candidates.
GET STARTED
RECRUITMENT ON DEMAND
While AI can be a helpful tool in recruitment, nothing can replace a human recruiter. If you don't have enough recruiters on your staff or want to hire a recruiter only when you need one, you can use our
recruiters on demand
.
This is the perfect flexible fit for any company looking to fill any type of position. With this
recruiting solution
, you can scale your business up or down with our extensive network of experienced recruiters specializing in different industries.
You can choose one recruiter you want to work with or hire a team of recruiters. You can use them to replace an in-house recruiting team or supplement your existing team. This can help you be flexible while filling your hiring demands and reducing costs.
Recruiter.com has the largest network of recruiters in the country, and you can hire one (or more) of them today! They're experts in all things recruiting and can help build a team that'll make your business successful.
LEARN MORE
NICHE CAREER COMMUNITIES
We also have different niche job boards that you can post jobs on to attract certain types of candidates. We have career communities for finance, diversity, cryptocurrency, media and creative, and cryptocurrency professionals.
Our financial career community has more than 700,000 members, and it's one of the largest talent pools in all financial career communities. With our career communities, you can run executive searches and vet matches with candidates. If your
job posting
isn't attracting the right types of candidates, then we can help you adjust your postings to attract the right people.
We also host MediaBistro, the best hub for finding posting publishing, editorial, content creation, social marketing, video, content marketing, and other creative positions. We're the leading source for freelance and full-time hires for content marketing teams, news organizations, streaming services, video teams, and top publishers. If you would benefit from any of these recruitment services, contact us today!
GET HELP
Recruitment Resources
Recruitment, the process of finding and selecting talented employees for jobs, is handled either by internal corporate recruiters or agency recruiters (sometimes referred to as headhunters.) Find a wealth of recruitment related resources, including best practices for corporate recruiting, recruiting technology trends, job boards, recruiting software, and job search and connection to employers. Additionally, we offer a host of career related and informational tools for active job seekers.
Factors spurring the historical growth and continuing need for recruiters are diverse and include:
Increasing complexity and expansion of screening steps
Increasingly physically mobile workforce
Growth of labor force population and job listings to levels requiring centralized, specialized hiring
Parallel rise of highly-specialized jobs and skills
Incomplete automation of screening
Rise of information and other digital technologies
Globalization of employment opportunities for expats.
"Recruitment" means solicitation, screening, and appointment of an ideal candidate for a particular job. Of course, the specific considerations vary among industries; while an engineer would be interviewed primarily on technical knowledge, experience, and expertise, a customer-service recruiter will give much greater weight to the personality of the job applicant.
A company has to clearly state job responsibilities and requirements that will qualify an individual for the open positions. This is one of the major criteria for recruitment strategy and initiating the hiring process. Having identified the need, the opportunity, and the requirements, the company then has to promote the job opportunity through appropriate means, such as newspapers, social networking tools, social media, online advertisements, and job boards. Human resource departments may also utilize recruiting software and
applicant tracking systems
to assist with finding the ideal candidate.
In response, the company will closely review and prioritize applications that meet the recruitment cut-off standards. In many instances, selected candidates are invited to an interview in-person, by phone or online, with written tests as a possible adjunct. For the most competitive and selective positions, multiple interviews - even as many as four - may be required before a decision is made.
Finally, all screening outcomes, including testing and interview results, are compared and prioritized, before final discussion and job offer. Although the hiring process may be thought to terminate with a contract signing, various considerations, such as probationary periods or ongoing "aftercare" services provided by the recruiter can transform the recruiting process into a recruiting relationship.
The talent acquisition lies with either an independent recruiter, with the human resource department of a company, or with the non-professional recruiter within a business or organization who has been assigned or chooses to perform the hiring tasks (aka hiring manager). In larger organizations, highly-specialized human resource personnel are trained to analyze employee personality, presentation, and production capability. They, in consultation with supervisors, conduct and complete the recruitment process.
Connect with headhunters and recruiting professionals at employers and recruitment agencies. Find out the best methods of working with recruiters to find a new job through exclusive career advice. Research open jobs with our job search tool.
Find professional recruitment agencies and staffing firms. Get job search and career advice, including how to work with recruiters effectively.
Find temp agencies for temporary work and contract to hire opportunities. Temp recruitment professionals, access recruiting tips for the staffing industry and receive recruitment industry news to keep you up to date.